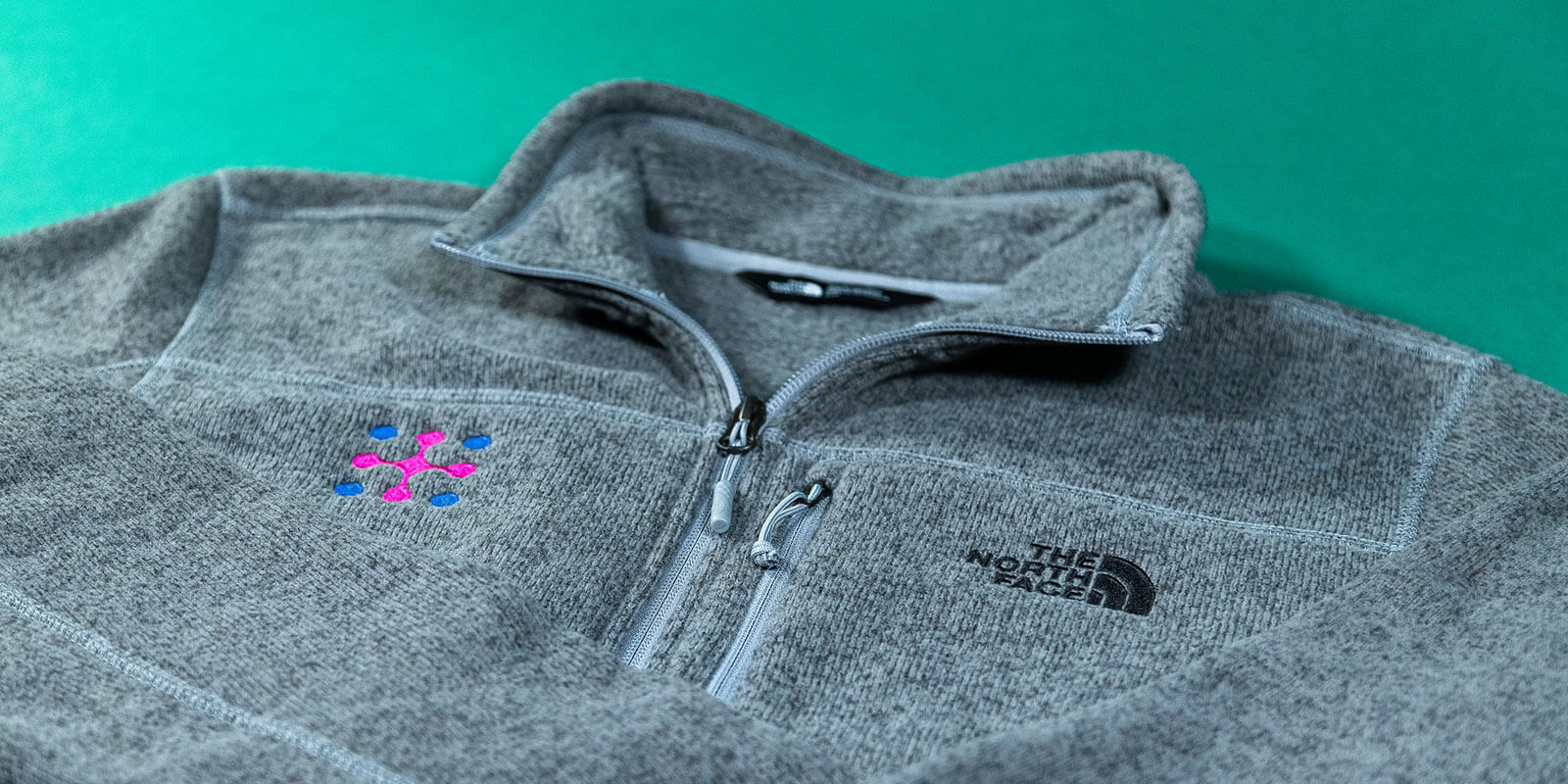 The North Face Customized Jackets
Take your brand on new adventures with The North Face customized jackets, custom logo apparel and gear. The North Face is one of the leading outdoor apparel brands in the world because of high quality outerwear, apparel, and gear that pushes boundaries and explores new technological frontiers.
With over 50 years of exploration and innovation, The North Face has remained focused on creating top performing gear for athletes, adventure-seekers, and anyone who enjoys well-made clothing and gear, all while supporting the preservation of the outdoors.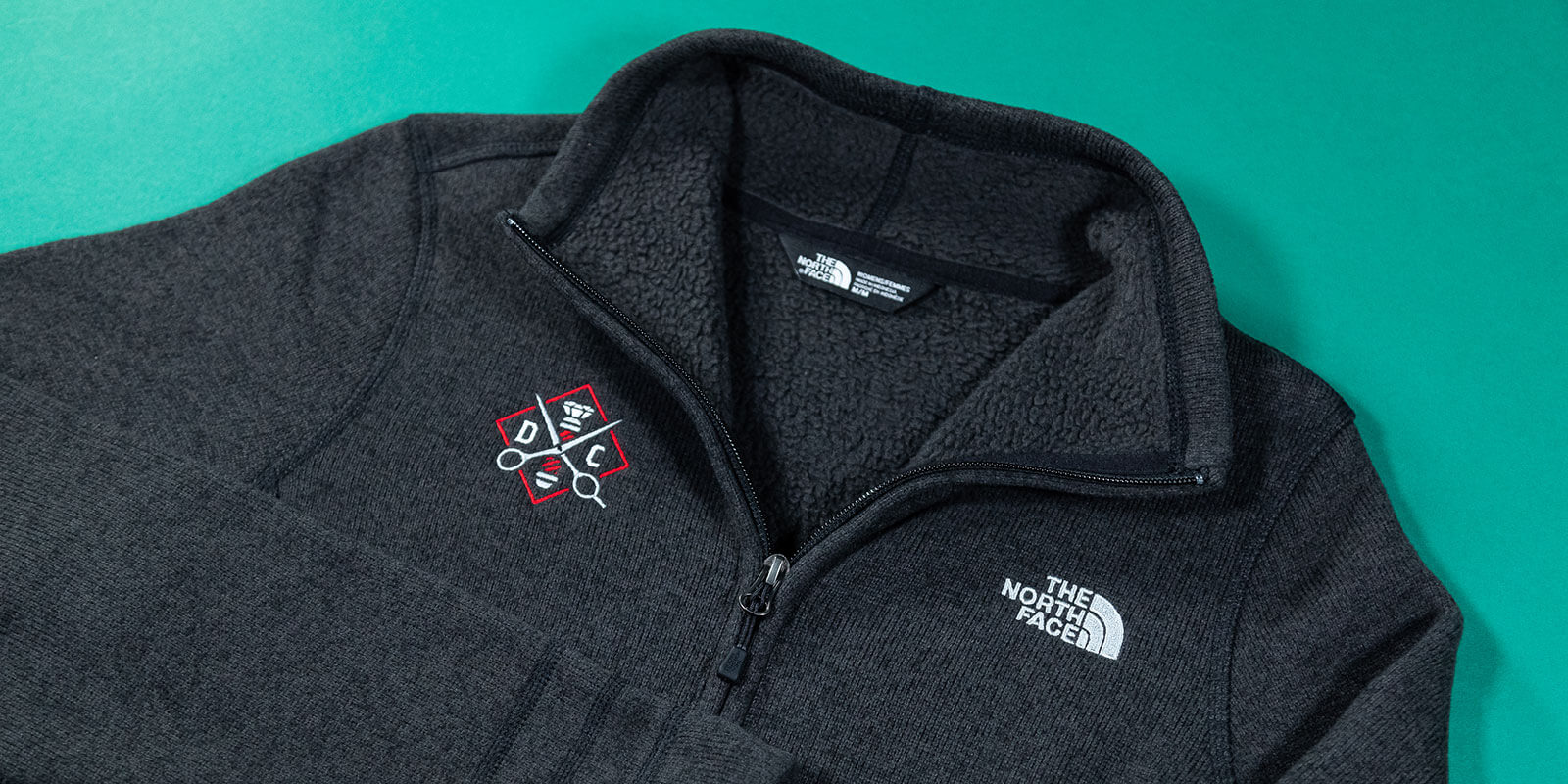 The North Face Corporate Gear
Company Logo Jackets and Quality Apparel
It's no surprise that they're one of the best outdoor brands in the world. The North Face products are all designed with a combination of comfort and warmth, durability and style. Opt for a The North Face hoodie for the trail, or take it to your team meeting: The North Face custom logo apparel and gear will serve your brand well with premium custom North Face jackets, vests, and hoodies. If you're searching for reliable and high-quality apparel, The North Face corporate apparel will exceed your expectations.
Customizing gear by established, popular brands will increase opportunities for your brand. Here are just a few benefits of custom gear from The North Face:

Company Uniforms. The North Face has a variety of clothing to choose from including custom pullovers, jackets, hoodies, and vests. Though the brand is built around outdoor apparel, these days, personalized North Face apparel is perfect for the office, worksite, lab and factory floor, too. Comfortable, high-quality custom apparel is enjoyable to wear daily, and well-made clothing provides a boost of satsifaction for your team.

Gear That Keeps on Giving. The North Face custom gear, such as the The North Face connector backpack is a popular bag across high-end, premium brands. Likewise, any The North Face logo gear will garner your brand the attention and look you're seeking with your custom embroidered brand logo.

The North Face gear is sustainable from start to finish, providing your employees with a professional style while keeping environmental impact in mind. Lessen your company's impact on the earth by customizing gear that is responsibly-sourced. Show that your brand supports eco-friendly initiatives by pairing your logo with sustainable hard-working brands like The North Face.

Increases Brand Awareness. Adding your company logo to gear that will be used time and again sets your brand campaign up for success. It increases impressions for your brand, and helps you to reach potential customers who may not yet be aware of how awesome your brand and organization is — Give your brand the attention it deserves with custom The North Face gear!

Cost-Effective Marketing Strategy. No matter the size of your business, or number of employees—from five to thousands—smart marketing positions you in front of the best audience for your organization. We understand that promoting your brand can take up time and resources. Because of this, we offer a full suite of promotional branding services all under one roof. This helps us keep our pricing reasonable and affordable while cutting the costs of any third parties.
The North Face has company gear and apparel for everyone. Whether it's the Women's Skyline Jacket to keep your employees warm on their commute to work, The North Face Men's Skyline Fleece Jacket for an extra layer in the office, or The North Face connector backpack, to hold all of your work essentials, choose custom gear from a brand your employees love.

Company gear always makes for the perfect corporate gift! If you're in charge of your company's corporate gifting and considering what your colleagues will like, look no further than The North Face apparel and accessories. From caps and beanies to backpacks and duffels to jackets and vests, we've got it all!

Choosing the perfect company gift can be hard, but we can help. We have created a curated selection of popular sellers, and make it easy for you to add your company logo to them. Show your appreciation toward your hard-working team by gifting them company gear they can use outside of office hours.